It just wouldn't be right...
That is, for me to give out all the SAM1 prizes without forgetting something. And that something is the Brownie Point Prize. I think
Karen
can truly call herself a sock-aholic after knitting 39 brownie point pairs in addition to her five monthly pairs (she was a late entry, or I'm sure she would've had all seven months covered). Many of those socks were baby socks which she sent off to cover needy little baby feet. Rock on, Karen! And thanks for being patient with me as I'm sure you thought I totally forgot about you.
As her prize, she'll be getting a hank of
Augustus
, the August Project Spectrum Sock Club color from yarn dyer extraordinaire, Mama-E. Appropriately, it is in shades of brown (brown, brownie point, get it?). Hee hee!
I actually have some knitting to show you this morning. Yes, it's true! I finally knit something from someone else's pattern. This is the pre-felted version of the clutch from One Skein.
It's for my One Skein Secret Pal. And yes, I know that technically you can't do colorwork with just one skein, but it was stash yarn, and I think that the whole thing could've been done with just a single skein of Brown Sheep Lamb's Pride Bulky, so I'm not going to lose any sleep over it. It was a great project - I knit the bottom two color bands yesterday afternoon and then finished the rest of it at knit night last night. Fast! Stay tuned for a post-felting pic in the next few days.
I got some yarny goodness myself in the mail yesterday, courtesy of
Jill
the totally awesome. Here's what she sent me for a late b-day present: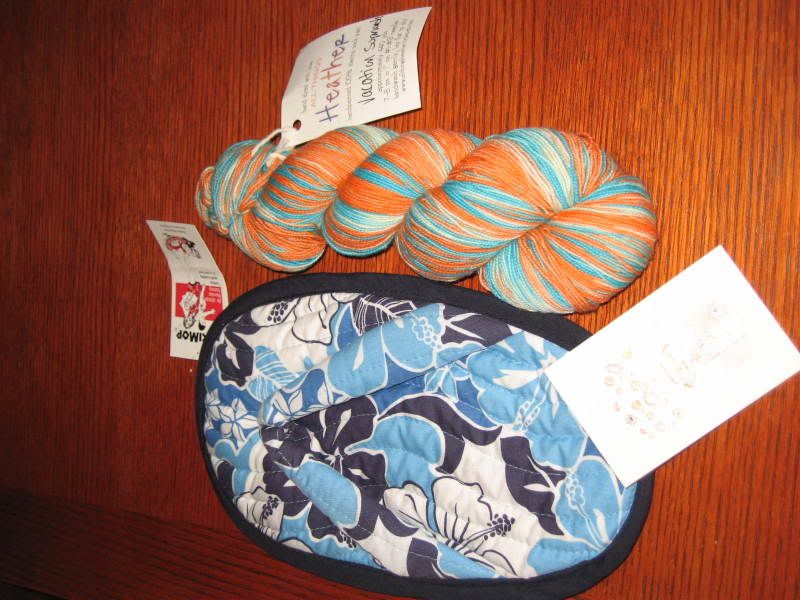 It's gorgeous sock yarn in my favorite colors from Everything Heather, and a little flip flop mop to wear on your foot so you can clean up spilled milk, juice, barf...whatever with a baby on your hip while talking on the phone (at least, according to the little picture on the tag). I love it! Thanks, hon!
We are being taken over by tomatoes. Literally. They're like tribbles.
This is just a small portion of the total number of tomatoes we've picked in the last couple weeks. They just keep coming, and coming, and coming... If anyone has any great ideas about what to do with hundreds of tomatoes, please share them with me. We're desperate! I won't even tell you how many have gone on the compost heap because we just can't keep up with them (but at least they're going back into the soil...). Here are the out-of-control tomato plants that have taken over much of the front yard:
We also have crazy pumpkin plants that are growing over everything and these insane 12-foot tall sunflowers:
You don't totally get the scale of these things from the picture, but the big one over on the right is reaching right up to the telephone line. The flowers on these things are like dinner plates. I'm starting to think that our house was built on some kind of radioactive toxic waste dump or something. But it's probably just the manure that was mixed into the new soil we bought last spring. It's incredible.
Bill finally got to fill the Jetta up with biodiesel yesterday. I drove it to knit night last night and got a nice aroma of popcorn as I was idling at stop signs with my windows down. So cool! I adore that car.
I'll leave you with this picture and I ask you, is it just me, or does this seem like a lot of shoes?
This is what I picked up and threw into Bill's "shoe corner" yesterday while cleaning the house. Unfortunately, whenever I ask him how many pairs of athletic shoes one person needs, he throws it right back at me - "well, how much yarn can one person possibly knit in her lifetime?" Sigh.