Bleccchhhh....
I'm sick. Again. I think I might've gotten it from my cat, who spent a cold, wet night outside and has been sneezing little cat sneezes ever since. Or I could've gotten it from Tricia at Dublin Bay (she was out with laryngitis a good portion of last week, poor thing!), or Shannon at Twisted (who got her cold from Emily, the other owner of Twisted), or the kids, or any number of other sick people who seem to be milling around these days. I just hope that I don't pass it on to Bill, because I am totally and completely miserable! I think I've taken too much cold medication in my lifetime because it doesn't seem to work at all anymore. My homeopathic potions aren't working, either. I even cracked out the Neti pot, but my nose was so stuffed up on one side that I couldn't get any water through and had to give it up before I drowned myself.
So today I had to miss both work and a friend's baby shower that I had been looking forward to for weeks. Tomorrow we were supposed to go to a potluck dinner at the same friend's house, but I don't think I'll be healthy enough to do that, either. I hate being sick! I'm feeling so lousy, I don't even want to knit (but sadly, I have to, since I've got deadlines screaming in my direction). I know, poor me, right?
Last Sunday we went to the pumpkin patch out on Sauvie Island, which is a little patch of land where the Columbia and Willamette Rivers converge that is famous for its agriculture. We also go strawberry, raspberry and blueberry picking out there at various times of the year (if we don't decide to take the easy way out and buy it from the drive-up farm stand instead). After waiting in a very long line of cars to get in, we headed straight for the corn maze called "The Maize". How clever.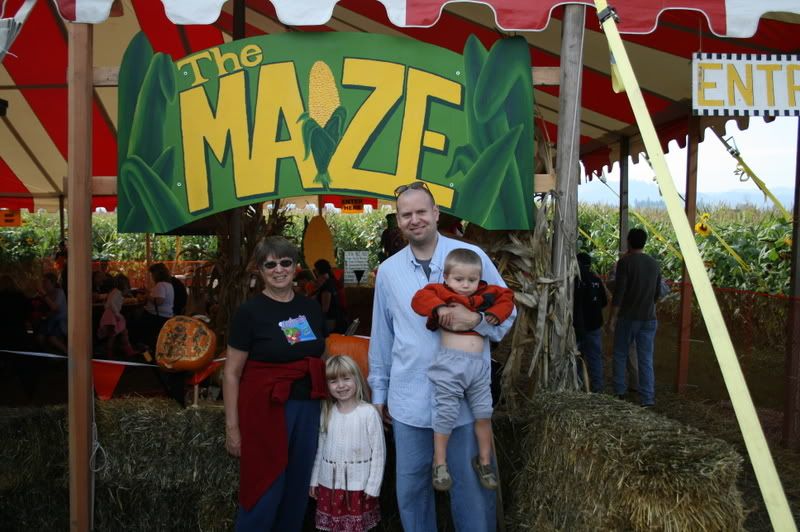 The corn maze was great fun and, fortunately, not too hard. The kids loved running around in the really tall corn, pointing out all the ears that had fallen on the ground.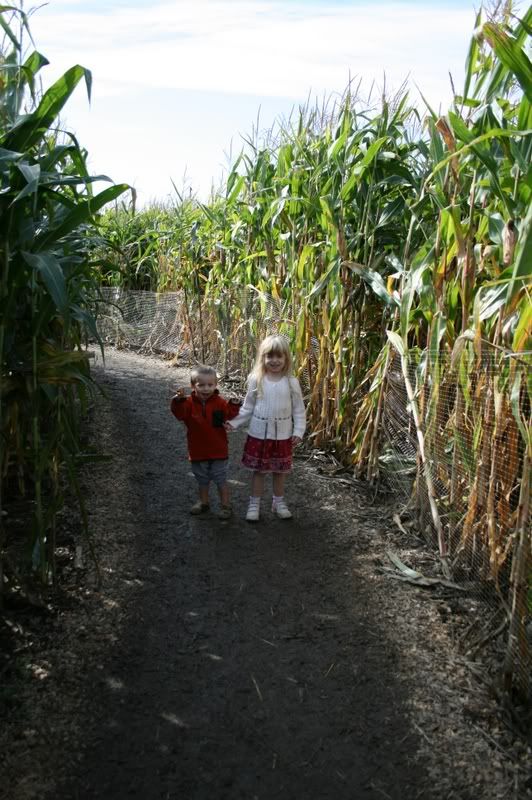 After lunch, we took a hayride out to the giant pumpkin patch. There were lots of pumpkins, many of which were rotten, broken and otherwise kind of disgusting. It sure was pretty, though!
Isn't he cute?
Each of the kids picked out their own pumpkin and then we walked back. Owen was just about asleep when we got back to the car - you can tell how sleepy he is in this picture (he's holding the pumpkin Bill helped him pick out).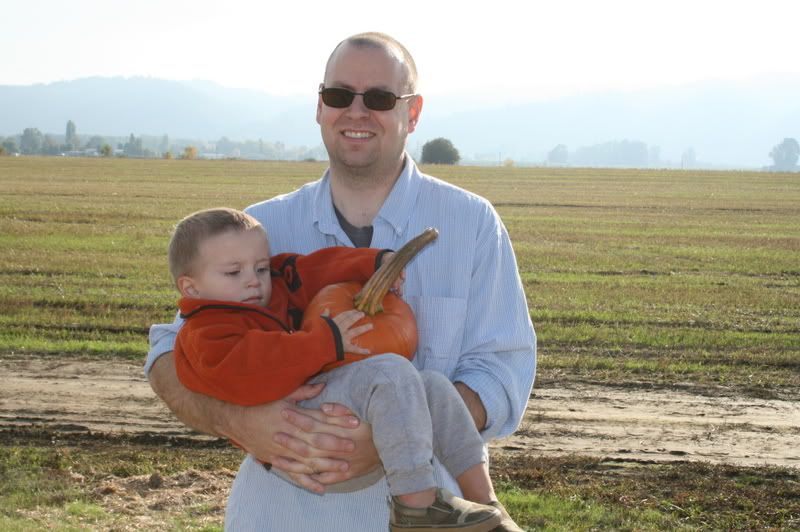 After a long day of fun on the farm (I hear there's a new term for this - "agritainment"), we headed back to Portland and got stuck in one of the island's infamous traffic jams. It took us about an hour to get over the bridge. I couldn't help but think about what a huge hassle this time of year must be for the residents - there's only one way off that island that doesn't involve a boat (or swimming)...
Well, that's about all I can handle for now. Time to go lay on the couch a feel sorry for myself while watching
Overboard
. This will round out an awesome day of sick movie-watching which included
Best In Show
,
Waiting for Guffman
and Bill's all-time favorite made-for-TV movie,
Frequent Flyer
with Melrose Place alum (and Heather Locklear beau) Jack Wagner. We wonder if Heather makes fun of him for making this movie. Regardless, it was a total score to find it on DVD for $1. Now if we could just find our other favorite cheesy TV movie,
The Colony
...